Biography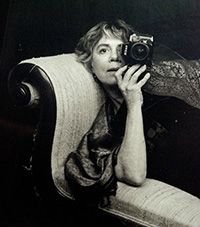 PEGGY FOX
Peggy Fox has explored dual careers in fine art and commercial photography. She draws on combining these two disciplines to uniquely develop her personal images while exploring the natural, perceived and imagined worlds.
Her mural, "Lost in the Cosmos" is a 200' fantasy about travel, in porcelain enamel on steel, for the walls of the Johns Hopkins Hospital Metro, commissioned by the Maryland Transit Authority.
In 2008 " Patapsco; Life Along Maryland's Historic River Valley", a book documenting through photographs and stories the people and places in four towns along the Patapsco, was published by the Center for American Places, with writer Alison Kahn.
Fox exhibited in a one person show at The Baltimore Museum of Art. The Vermont Studio Center awarded her a fellowship in 2010.The Atlantic Gallery in New York City has shown her work in two one person shows. She was awarded two Maryland Arts Council Grants and in 2012 her print, "Tachyons" was honored for IMPACT, MAP's first of a series of commissioned prints.
Fox enjoys storytelling. "Morality Tales"are abstractions of the human dilemma, and  "Particles All"  the poetics of physics and metaphysics.
The resulting images, which have been combined , collaged, painted on and worked into in prints and mixed media  are meant to stimulate the viewed into their own interpretation of the images.
These series have been exhibited in New York, Baltimore, Washington, Dc, Philadelphia and New Jersey.