About Peggy Fox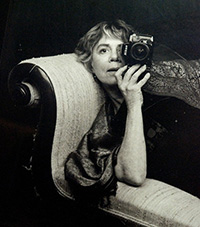 Peggy Fox explores dual careers in fine art and commercial photography. She combines these disciplines to develop her personal images while exploring natural, literal, political,perceived and imagined worlds.
My mural, "Lost in the Cosmos" is a 200' fantasy about travel, space and cows jumping ove rhe moon in porcelain enamel on steel, for the walls of the Hopkins Hospital Metro, commissioned by the Maryland Transit Authority, a 10 year project, from 1988 to 1998.
I first exhibited my work in a one person show at The Baltimore Museum of Art. The Vermont Studio Center awarded me a fellowship in 2010.The Atlantic Gallery in New York City has shown my work in two one person shows. I have been  awarded two Maryland Arts Council Grants and in 2012 my print, "Tachyons" was honored for IMPACT, MAP's first of a series of commissioned prints.
Currently, I am working with ariel and patterned landscapes, abstracted, manipulated and layered.
I have a continuing interest in exploring the poetics of physics and metaphysics .These inquiries resulted in both prints and mixed media. Images from this series have been exhibited in New York, Baltimore, Washington, Dc and New Jersey.
Assignment photography has opened doors to different worlds and contexts. A privilege. Clients have included The Johns Hopkins Hospital and Kennedy Kreeger Institute, Goucher College and T.Rowe Price and AT&T to name a few. 
Documentary projects. I love these projects as they usually let me think out the images on my own and gave me editorial freedom.  During"The Equitable Photographic Survey of Maryland", I photographed the watermen, tobacco farmers and Amish of St Mary's County. In Fells Point, an historic Baltimore neighborhood undergoing renovation, and "Minding our Own Business, A History of North Brentwood's Entrepreneurs" an early incorporated black town in Maryland. Lately I have been photographing for The Baltimore Tree Trust, Planting 500 trees in innercity Baltimore in a pilot program for Trees For Public Health.
In 1998 I collaborated with writer and folklorist Alison Kahn on Patapsco: Life Along Maryland's Historic River Valley, a documentary portrait of the region revealed through photographs, first-person narratives, and essays, published by the Center For American Places at Columbia College Chicago. Robert Coles says about my work in his introduction to Patapsco, "With an intimate eye she captures the essence of her subjects in their work or personal environments.
I have two children, and four grandchildren